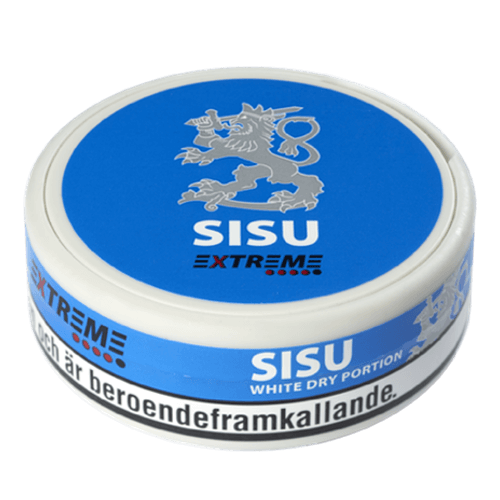 Flavour

Spearmint

Portion size

Standard

Strength

3. Extreme

Portions

20

Manufacturer

AG Snus

Nicotine

20 mg per portion
 
SISU Extreme White Dry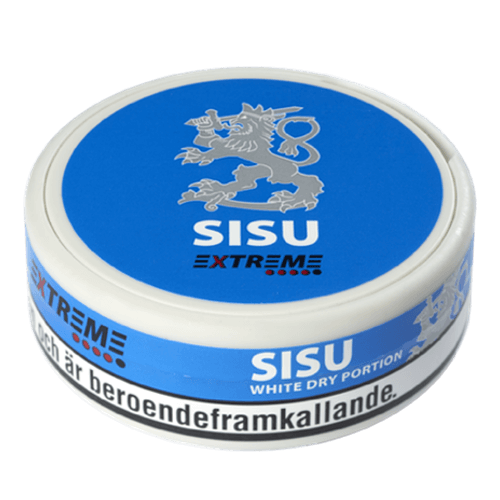 Flavour

Spearmint

Portion size

Standard

Strength

3. Extreme

Portions

20

Manufacturer

AG Snus

Nicotine

20 mg per portion
 
Extreme
Sisu Extreme is an extremely strong white dry Snus with spearmint and menthol flavour that gives an ultra minty sensation in the mouth. Providing 20 mg of nicotine per portion, Sisu is a great choice for all strong Snus lovers. By using a new unique process, the nicotine release is quick and extremely high. Sisu is a great quality Snus with an attractive price offering best value for money.
Rate this product
Rate it! How do you like SISU Extreme White Dry? Help others by rating this product.
Alec
My parcel arrived today and I tore the package open and got right to it... When I opened the can, I was impressed with the aroma of mint, but when I placed the portion under my lip I was hit by a strong taste of salt.. The salty taste lasted for around ten minutes before the mint flavour became more prominent.
The nicotine hit is actually better than I expected. I'd been using siberia 80 for the few months but I found the nicotine content overrated..
I find that this sisu content and kick much stronger... I will definitely buy this snus again..
Great snuss!
Like the taste and also, even the pouch sizes are quite big, they are very comfortable!
Sisu Extreme white dry review:
Open your eyes, look up to the skies and see.
These are not clouds, these are Sisu portions. Touch them. Did you feel it? No?
That's what it's all about. Sisu extreme is the softest portion on the market. Yes, there are comfortable and more comfortable portions, but these are as smooth as a cloud.
The smell is a really nice and fresh peppermint with a little bit of menthol.
The taste is the same, really cooling peppermint flavour with some menthol, really refreshing stuff.
It lasts up to two hours, so the longevity on this one is absolutely perfect. The flavour stays present for the whole time. Combine it with an extra strong level of nicotine, this is a Snus that you want to pull off an all-nighter.
It is great both as a stand-alone snus or with some mint or chamomile tea, even with some icy water.
If you are a fan of mint snuses, definitely give it a shot, because it is really, really good in every aspect.
P. Hanovec
Flavour

Spearmint

Portion size

Standard

Strength

3. Extreme

Portions

20

Manufacturer

AG Snus

Nicotine

20 mg per portion
SISU Extreme White Dry delivery times:
UPDATED SHIPPING TIMES DUE TO COVID-19 CHECK YOUR COUNTRY
United Kingdom

4-11 days

Deutschland

4-6 tage

Danmark

4-11 dage

Latvija

4-30 dienas

Nederland

4-11 dagen

Italia

4-30 giorni

Česká republika

4-30 dnů

Magyarország

4-30 napok

Lietuva

4-30 dienos

Polski

4-30 dni

Belgium

4-11 days

България

4-30 дни

Hrvatska

4-30 dana

Κύπρος

4-30 ημέρες

Malta

4-30 jiem

Κύπρος

4-30 ημέρες

Japan

7-14 days

Luxemburg

4-11 tage

Portugal

3-11 dias

Slovensko

4-30 dni

Slovenija

4-30 dnevi

Switzerland

4-30 days

Türkiye

4-30 günler

Thailand

7-30 days

Canada

8-30 days

China

7-30 days

United Arab Emirates

7-30 days

Other european countries

3-30 days

Other countries of the world

7-30 days
More SISU Snus
Extreme
Price
33.90 
€
3.39 € per can